It's very nearly Sexual Health Week 2021 and we've got a whole bunch of events you can join us at throughout the week and beyond.
So where can you find us?
Saturday 11th September, 12pm-4pm @ the Hull Mesmac office (15 Freetown Way) – Weekly youth drop-ins are back! Book in advance for a one-to-one, and we'll be offering testing appointments, free condoms and info on sex and relationships.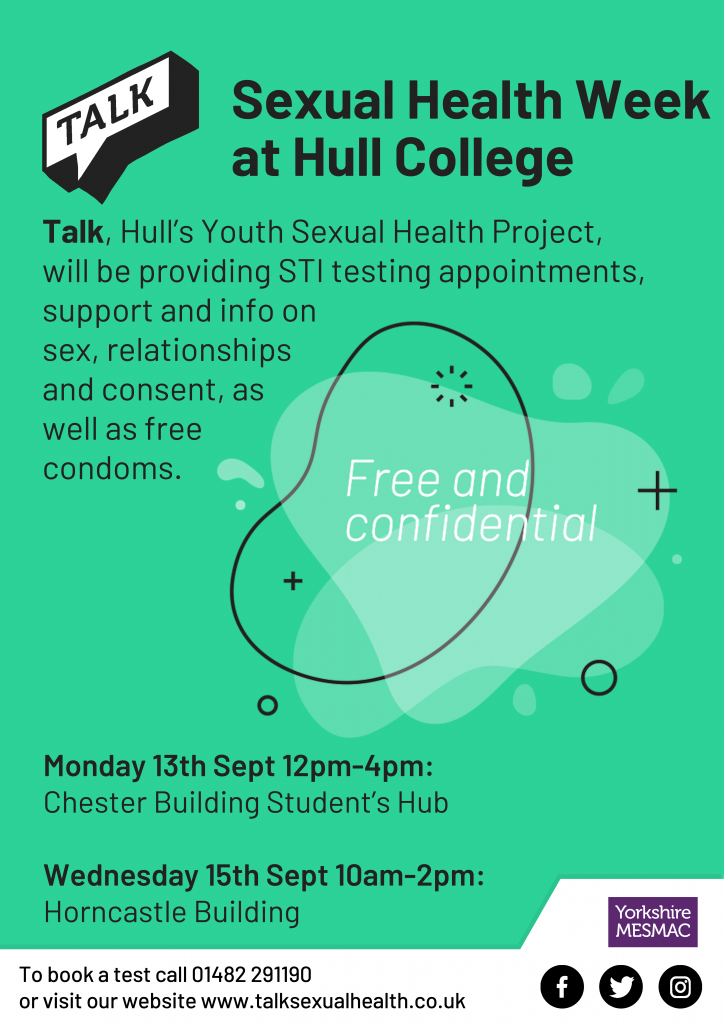 Monday 13th September 12pm-4pm @ Hull College Chester Buildings Student's Hub
Wednesday 15th September 10am-2pm @ Hull College Horncastle Building
Catch us at Hull College on both these days for STI testing, arranging contraception appointments, free condoms or a chat about sex, relationships and consent.
Wednesday 15th September 7pm @ Maxlife Youth Project – We'll have a stall setup with activities around consent, free condoms and testing.
Thursday 16th September 5pm-7pm @ West Park – Find us for free condoms or a chat about what consent means.
Friday 17th September 10am-2pm @ Wyke College – We'll have an information stand offering testing, free condoms, lube and dental damns.
Sunday 19th September 11am-4pm @ Gardeners Arms – Joins us at the Gardener's Arms Freshers Fair for sexual health guidance, free condoms and info on volunteering opportunities.
Friday 24th September 10:30am-2:30pm @ Prospect Centre – Missed us the previous week? We'll be back again with info about the services we offer, free condoms and booking testing appointments.
This year, the theme for Sexual Health Week is consent. Check out the tea and consent video for some info about the topic, and come by any of our events for a chat and more info about consent and communication!